We and AI


Increasing public awareness of the benefits and impacts of AI
Project Type:

Client |

Team:

Group |

Duration:

3 Weeks |

Role:

UX Researcher & UX Designer
We and AI is a new not-for-profit organisation set up and run by volunteers with the primary mission of increasing public awareness and understanding of artificial intelligence (AI) in the UK.
In order to achieve their aim, they want to recruit volunteers to be able to share information and resources across their social networks. To help to simplify the process, they intend to create themed toolkits, which are collections of related resources, news stories, videos and quizzes.
​
We and AI want to create a Resource Hub where all the AI-themed resources they want to be able to share are made available.
​​
Define architecture and user flow for a 'Toolkit'.
​
Improve the onboarding for all users and, specifically, for their volunteer ambassadors.
Create the prototype mobile-first website.
​​
My Role: UX research, competitive analysis, screener survey, user interviews, insights, persona creation, empathy mapping, design studio, feature prioritisation, sketching, wireframing, usability testing, accessibility testing
​
Tools Used: Pen, Paper, Figma, Trello, Miro, Google G-Suite, Keynote, Zoom & Slack
Left: Design Studio sketches. Right top: Design Studio. Right bottom: Mid Fidelity usability test
Discover


Competitors & Pain-Points
To understand how others share information about AI, we conducted a competitive analysis. We researched organisations promoting AI (direct) and those good at enabling information to be shared (indirect).
​
Then after a screener survey with 90 respondents, I conducted the majority of the 15 user interviews.
​
Challenge:
Existing information on AI is generally promoted by organisations that are promoting AI for commercial gain.

The information is difficult to find and doesn't reflect benefits and challenges.
​​
Opportunity:
We and AI's aim of offering balanced information and using volunteers to share information is unique in the UK.

People want to volunteer if they are given support/training and can share resources via social media.

There is awareness of racial biases in AI systems and that would be a good topic for a 'toolkit' of resources.
Define


The User Experience
The research suggested several potential personas to summarise the findings. We decided to focus on one, we named Paul, who witnessed potentially racial-biased AI at airport passport gates and wanted to find out more so he could raise the issue with friends via social media.

We created an experience map to identify his challenges, and an empathy map to capture his feelings and actions.
​
Pain-Points:
Difficulting in finding unbiased information to understand the issue.

No clear sources to enable sharing via social media.

No collection of related resources on the theme.
​
These pain-points were summarised into a problem statement. After considering the existing We and AI site, we proposed a user flow and identified two 'how might we?' statements to consider:
How might we present resources in a toolkit?

How might we make We and AI's online presence more engaging?
​
To allow for creative solutions, we ran a design studio with the client. After getting them to sketch ideas for each 'how might we?', we collectively identified ideas that may solve the solution.
​
Concepts to develop:
A toolkit 'landing page' to explain what it is and how to use it.

Information to be available in 3 levels of detail: headline, summary and the full content.

Volunteers need easy ways to sign up and share information on social media.
​
We then created wireframes, initially on paper, but then digitally, which we user-tested and iterated multiple times as we moved from low- to mid-fidelity.
​
We discovered:
Some user flows were too long.

lack of understanding of the purpose of the toolkit.

we needed to include a search function.
​​
Finally, we conducted accessibility tests and corrected an issue with test colour and font size.
For the final high-fidelity prototype, we focused on ensuring all the screens had been created in Figma for the user flows:
Paul wants to share an article from the racial bias toolkit.

Paul wants to get involved and become an Advocate volunteer.
​
The final aspect of the delivery was to mock-up how the screens would also look on mobile and desktop viewports.
​
To conclude our project, we gave a 20-minute presentation of our findings and solution to our client, allowing them time to ask questions and request the assets they wanted.
​
While all the features are not live yet, We and AI are working to incorporate this work on their site.
Low & Mid Fidelity Wireframes and High Fidelity Prototypes
Mobile, Tablet and Desktop Viewports
Improve Accessibility by working with a UI designer on updating the site design style guide.
​​
Wider Usability Testing: Carry out further usability testing and design iterations for the prototype across a wider cross-section of the UK population.
​​
Information Architecture: Consider the information architecture and metadata used to categorise the resource to ensure users can successfully find content.
What I Learnt
Evolving & Refining
I enjoyed working with my team and the client, particularly after working out the best way of communicating with each other.
​
I realised the power of a team member taking the lead for a different stage of the project. I led on research, and I learnt from my colleague who had stronger UI skills.
​
the project has allowed me the opportunity to develop my UX research and design skills further.
Refining my ability to coordinate the various elements critical for the successful delivery of this project without over dominating.
​
Design studios are a powerful way of co-creating ideas with the client. however, extra care has to be taken to ensure the client fully understands that it's a creative visual technique where sketching rather than writing textual lists is the best way forward.
​
I've learnt a lot about artificial intelligence! We and AI have helped raise my personal awareness of the benefits and challenges we face with systems increasingly using forms of AI.
The experience of working with my team and with our client allowed me to further develop my UX project communication skills.
​​
Having taken the lead with the interviewing, and subsequent insights, made me more curious about specialising in UX research as my career develops.
​
The feedback from our client after the final presentation summarised the success of our work in one sentence 'that blew me away!'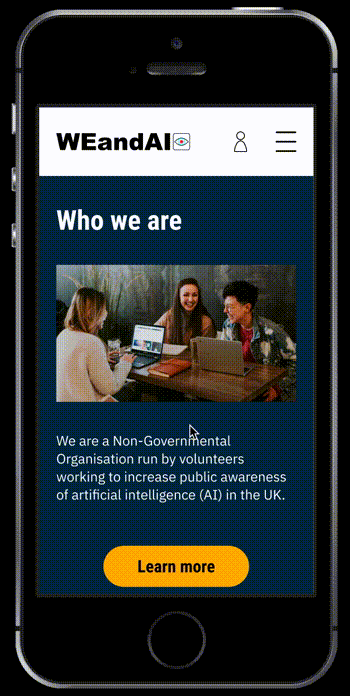 Prototype: Finding and sharing an article from the 'Racial Bias in AI toolkit'